1960's
makeup look was very dramatic and the emphasis was on the eyes. It was the ultimate time for makeups. Ladies surely took some time doing their makeups and hairs because the looks were more detailed.
The Pixie Cut (made famous by Mia Farrow)
Beehive
Bubble Flip
Other hairstyles...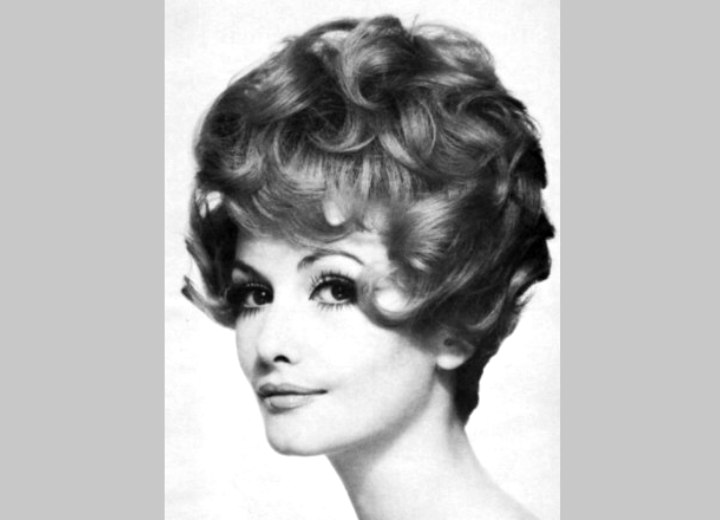 MAKEUP LOOK
FACE
The face was almost pale. This look was achieved by using a sheer foundation and a translucent powder.
BLUSH
Peach cheeks were famous back in the 60's. Make sure to blend very well to achieve a barely-there, almost natural look.
EYES
So, the eyes were the star of the face during 1960's. The eye makeup should be very dramatic and it should appear bigger and rounder. The eyes have a very defined crease. Light greens and blues were used as a base all over the lids. Using an eyeliner, create a thick line (not too thick though) and make it a little higher on the outer corners of your eyes. Now, thick-looking eyelashes are a must! You can use faux lashes on the upper and lower eyelids. Apply thick coats of mascara. Drawn on lower lashes were also very popular back then. It was made famous by Twiggy that's why they were called twiggies.
LIPS
No more bold, red lips! Light shades of lipstick were preferred to have a pale-looking lips. Pale pinks and peach were mostly used.
1960's BEAUTY ICONS
TWIGGY
JEAN SHRIMPTON
Edie Sedgwick
JANE FONDA
GOLDIE HAWN
So, here is the makeup look that I've created inspired by the 1960's:
PRODUCTS USED:
FACE
ELF Clarifying pressed powder in honey
EYES and BROWS
Fashion 21 liquid eye liner
Ever Bilena precision blender
LIPS
Hope you gained something from this. :)
Stay awesome my dear dudettes! :)
-ivsc-